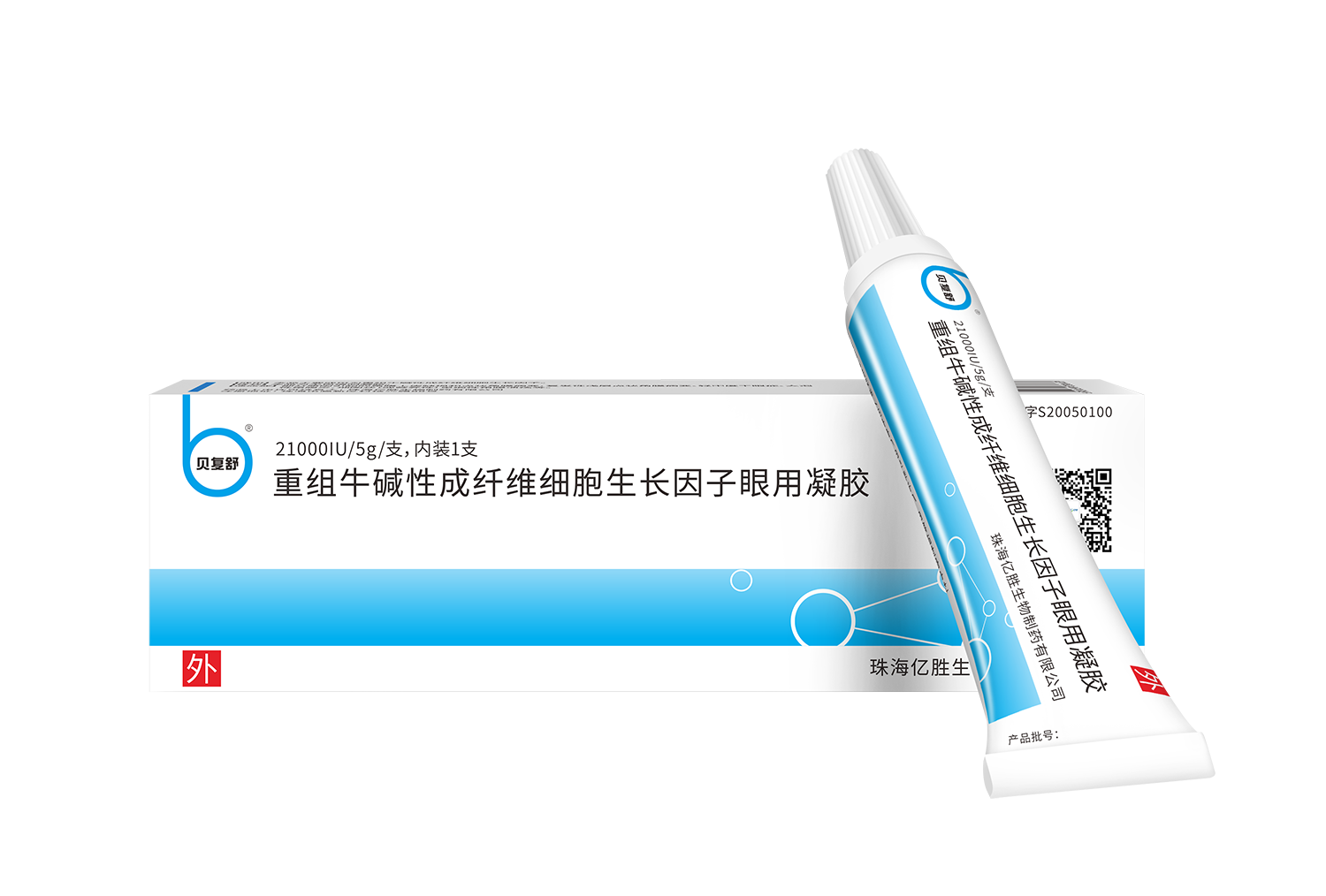 Information is solely for medical professionals
Beifushu Eye Gel
Recombinant Bovine Basic Fibroblast Growth Factor Eye-gel
/
Specification 21000IU/5g
Beifushu eye gel is a genetically engineered new drug developed and manufactured by Zhuhai Essex Bio-Pharmaceutical Co., Ltd.. Carbomer -a new generation of artificial tears, as a new matrix of the eye gel, can give patients a sustainable relief.

With the effect of bFGF, Beifushu eye gel can stimulate corneal reparation and improve healing quality of cornea, keeping cornea in homeostasis.
Mechanism
The API of Beifushu eye gel is recombinant bovine basic fibroblast growth factor ( rb-bFGF ), which can stimulate the reparation and regeneration of tissues derived from the mesoderm and ectoderm. The specific combination of rb-bFGF with the wounded ocular surface(including corneal epithelial cells, endothelial cell and stromal cells) can trigger tissue repair activley by promting cell division, proliferation, migration and differentiation, so as to accelerate the healing of corneal wounds and improve the healing quality of cornea.
Features
· Carbomer-a new generation artificial tears, is comfortable to eyes and can be used all day
· Effectively maintain local drug concentration, extending drug action and improving patient's compliance
· Growth factor(bFGF) in Cabomer matricx provides good protection to ocular surface epidermis, and reduces drug toxicity
· Safe and effective treatment without any side effect
Clinical Application
· Various keratopathy, ocular traumas and foreign body removal
· Corneal transplantation and eye surface reconstruction
· Dry eye: especially dry eye triggered by corneal injury
· Cataract surgery (ECCE. Phaco etc.): restoration of endothelium and reduction of edema
· Corneal refractive surgery: repair damaged corneas before surgery, repair damaged nerves after surgery and treat postoperative dry eye
NDRL
《National Drug List for Basic Medical Insurance, Work Related Injury Insurance and Maternity Insurance (2020)》
Medical Guidelines
· Chinese Expert Consensus on Dry Eye Management, 2020
· Expert Consensus of Clinical Diagnosis and Treatment of Corneal Epithelial Lesions in China, 2016
· Expert Consensus of Clinical Diagnosis and Treatment of Laser Corneal Refractive Surgery, 2015