MEDIA FOCUS
Essex Bio — Bringing Pharmaceutical Innovation to China
2017.03.15
Patrick Ngiam is a man with a mission. "As an entrepreneur, my sole focus is innovations in science and technology that lead to products and services which enhance the lifestyles and quality of life of people," says the chairman of Essex Bio-Technology Limited, a fast-growing Chinese pharmaceuticals manufacturer.

Perceptions about China and pharma tend to revolve around its role in producing generics. But Essex Bio is more ambitious. Ngiam explains: "In the early 1990s, most Chinese pharmaceutical companies were focused on manufacturing generics. But we became pioneers in the use of recombinant DNA technology [a process that involves molecular cloning of DNA from any species] to develop our own unique series of biologics."

Traditionally, pharmaceuticals have been derived from chemical compounds. Biologics are treatments derived from living organisms and are the cutting edge of drug treatments today. Biologics have transformed the treatment of many diseases like cancer, arthritis, and multiple sclerosis, by targeting treatments to the underlying causes of diseases and tailoring them to individuals for more effective therapies with fewer side effects. Insulin, human growth hormone, and therapies which trigger the body's own ability to produce antibodies, are commonly prescribed biologics.

Ngiam and his brother Benjamin founded the company two decades ago. Publicly-listed, the corporate headquarters is in Hong Kong and the production plant in nearby Zhuhai. The company has obtained seven patents for drugs developed using recombinant DNA technology. Enjoying more than 50 percent market share in its niche areas, its revenues totaled $84 million in 2015.

Essex Bio's top-selling products are the Beifushu series of drops and gels to treat eye injuries, dry eyes, refractive and cataract surgery, and the Beifuji series of sprays and powders to treat surface wounds, including burns, ulcers, and cosmetic plastic surgery. They also make Beifuxin, a gel that repairs and regenerates cells damaged by bruises, burns, contusions, cuts, surgery incisions, skin grafts, skin resurfacing, laser therapy wounds, bedsores, fistulas, and cervical erosions.

The company markets its products at affordable prices. For example, its Beifuji spray for treating burns and skin ulcers sells for $5 per 15ml bottle. By comparison, a 2.5ml bottle of Regranex, a widely-used spray for treating wounds and ulcers, sells for $74. The company's products are used in more than 4,500 hospitals across China.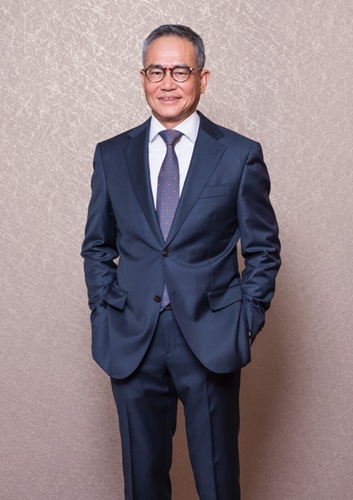 Patrick Ngiam, Chairman of Essex Bio-Technology Limited, a fast-growing Chinese pharmaceuticals manufacturer.
Last summer, IFC approved a $19 million loan to Essex Bio to help it continue developing high quality, affordable pharmaceuticals. Essex will invest $45 million in research and development of innovative products. It plans to launch up to ten products in the next five years, expanding its patient base from 1.7 million to 3.5 million, and increasing total employees from 1,300 to 2,100.

A Future of Regenerative Medicines
Essex Bio was a trendsetter in China in developing proprietary drugs. More and more pharma manufacturers are doing it now. "They are tapping into higher levels of basic research conducted throughout the top universities in China. New drug discoveries are taking place within China — as can be seen with the increase in patents filed," Ngiam says. The United States remains the global leader for obtaining drug patents but China is starting to catch up.
As for the company's future, Ngiam says: "First we want to further cement our position as a leader in ophthalmology by addressing issues not just on the eye surface but also at the back of the eye. Equal efforts will be placed on wound healing, addressing issues of infection, accelerated healing and finally, scar reduction."

As China's population grows wealthier and older, the healthcare industry will need to focus more on primary screening to better manage chronic diseases, Ngiam believes. "Providing sensitive and specific diagnosis tests will ensure more individualized treatment, leading to better patient care and treatment outcomes," he says. Ngiam foresees a shift from reliance on therapeutic drugs to increased use of regenerative medicines that are developed from patients' own stem cells. The two treatments will complement each other to provide better outcomes, he says.

Meanwhile, Essex Bio will continue innovating to meet evolving market demands. "Due to our experience in biologics, the R&D team is working on establishing new divisions within the company to extend our treatment areas to oncology and neurodegeneration-related ailments, to name a few," he says.